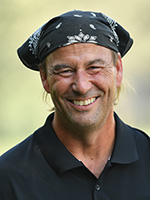 Mike Barclay
Head Coach
Mike Barclay is entering his 10th year as men's head soccer coach and is beginning his fourth year as the women's head soccer coach. In addition, he was the assistant men's coach during the 2012 and 2013 seasons.
As a player, Coach Barclay was a three-time All-Region, two-time All-Sectional and two-time All-State goalie for Downers Grove South High School (1983-85). For three seasons, Coach Barclay played NCAA Division I collegiate soccer for Eastern Illinois University in Charleston. As a goalkeeper, he still holds top rankings of No. 1 in saves percentage, No. 2 in goals against average and No. 3 in total saves in EIU history. In 1989, Coach Barclay led the Panthers to the NCAA Division I National Indoor Championship for the first time in school history.
He also played for one season in the semi-pro Chicago Metro League. In addition to coaching at KCC, Barclay was the goalkeeper coach for Olivet Nazarene University (Bourbonnais) women's team from 2002-12. He has coached numerous recreational teams for Dynamo Soccer and travel teams for Southland Strikers FC for more than 16 years. Barclay has a U.S. Soccer Federation (USSF) "E" certification. Along with his wife, Tammie, he resides in Bourbonnais. They have five grown children and two grandchildren.